Are you looking for a meeting place within easy reach of Edinburgh yet away from the disturbances of the office, where you can arrive unstressed by the rush hour traffic, and then conduct your meetings, discussions and training productively in a truly peaceful environment? The Glenholm Centre may be just the place you need.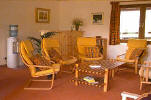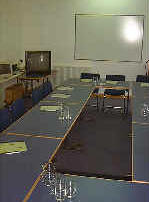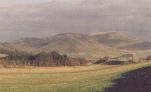 The Centre can host business training, meetings, retreats and small conferences. For residential meetings we can accommodate up to 9 people (sharing rooms) on our premises but by utilising other accommodation in the area nearby, our capacity for business and catering purposes can be increased to 20. What better place to work while enjoying the hills, glens, nature and history of the upper Tweed valley?
But your meeting need not be residential. Easily reachable from Edinburgh and Glasgow, and yet situated off the main road in the secluded Holms Water glen, the Glenholm Centre is ideal for a much needed day away from the office and provides a quality business venue where all of your needs will be taken care of.
The Old School
The Glenholm Centre's training room is suitable for business training courses, meetings or presentations.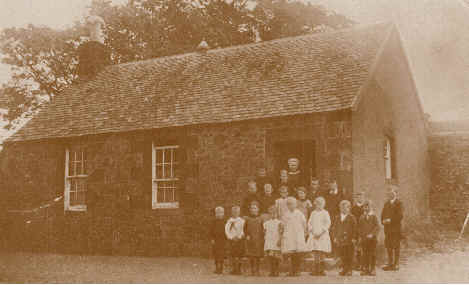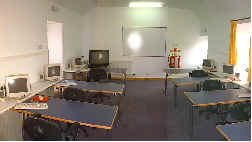 Converted from an old school, the room is designed with flexibility in mind. It can comfortably accommodate up to sixteen people for training and meetings, and also has capacity for up to 36 for more formal presentations. It is fully equipped with video and multimedia projection equipment capable for use with video recorder or computer.
The room and toilet facilities are all fully accessible to wheel chair users. The room is also equipped with an induction loop facility to assist those with hearing aids. Please let us know if we can assist you with any other special requirements.
For residential meetings the lounge would also be at the disposal of the delegates.
Information Technology
Eight networked computers with Internet access enable IT training in the main training/meeting room. These computers can run both Windows XP and Windows 98 but may be pre-configured to your own requirements. The Centre is also able to provide computer training in a range of applications if required.
For those with laptop computers, network sockets, providing access via the Glenholm Centre network to the Internet, exist in the lounge and all guest bedrooms. Telephone sockets in each room can also be used for dial-up Internet access. An additional computer in the main building provides free Internet access to residents. During workshops additional computers can be made available for e-mail and other computing tasks within the main part of the Centre.
If required temporary Internet addresses can also be set up for each delegate, accepting forwarded e-mail during the visit and redirecting mail that arrives after they have left onto their own address.
The Glenholm Centre network is connected to the Internet using a very fast 2 Megabit broadband (ADSL) connection.
The Centre is surrounded by 1000 acres of upland sheep farm. Delegates are welcome to explore the farm and walk in the surrounding hills and enjoy viewing the abundant local wildlife.
As part of the Glenholm Wildlife Project four walks on the farm have been clearly waymarked and interpreted, a pond and hide have been established about a kilometre from the Centre and pictures from cameras sited at the pond can be controlled and viewed from the comfort of the Centre's lounge. These pictures may also be viewed from the guest bedrooms.
The Glenholm Centre offers three star (Scottish Tourist Board) and four diamond (AA) rated guest house accommodation.
In the main building there are three comfortable twin or double-bedded rooms, each with en-suite shower and toilet, and equipped with colour television, video, DVD player, radio, telephone, fridge and tea and coffee making facilities.
One guest room is equipped for wheel-chair access and most of the centre is accessible with a wheel-chair. The Centre has been awarded category 1 status by the Scottish Tourist Board indicating unassisted wheelchair access.
In an adjacent cottage are a further two twin bedded rooms configured as a suite with a separate shared bathroom. For more information see the accommodation page.
Farmhouse Cooking

The Glenholm Centre prides itself in providing farmhouse cooking at its best. Morning coffee and afternoon tea are always served with home made scones, cakes and biscuits. Our dining room, with spectacular views up the glen, can cater for up to 24 seated, or 36 for a finger buffet. Vegetarian options are always a feature. Other dietary requirements can be met with advance warning.
How to Get Here
The Glenholm Centre is easily reachable by car. We are close to the A701 two miles south-west of Broughton. The A74 at Moffat is twenty miles to the south. However, if you are arriving by train or plane the nearest railway stations and airport are in Edinburgh. We will happily arrange transfers if requested. More detailed directions are available on a separate page.
Entertainment
For residential meetings the Centre is able to organise entertainment to suit the participants. In the past we have held ceilidhs within the Centre using a local Scottish dance band, we have arranged tours of the local brewery, and organised shopping and site-seeing excursions into Edinburgh and around the Scottish Borders.
Our immediate neighbours, Bairds Wines, offer wine tasting from their wine centre and together we can organise wine breaks tailored to your needs.



We have also held archery evenings through Active Sports, who are based in Melrose. They offer a range of activities and we would be happy to incorporate any of these activities into your programme.
In addition there is always plenty to see and do in and around Glenholm.
Rates
Item
Cost
Room Hire (per day)

£50.00

Computer Hire (per computer per day)
£20.00
Lunch, Tea and Coffee (per person per day)
£10.00
Evening Meal (per person as part of a meeting/workshop) - 2005
2006

£14.00
£16.00
Notes:
The Centre can accommodate nine people sharing or five in single rooms (three with ensuite shower and toilet and two sharing a bathroom). Additional accommodation may be sourced locally and transport arranged to and from the Glenholm Centre.

The above rates do not include transport, entertainment or administrative costs involved in organising the event should this be required. Please contact us to enquire further.
---


&copy The Glenholm Centre
Broughton, by BIGGAR, Scottish Borders ML12 6JF
Telephone: 01899-830408 - Fax: 01899-830408
E-Mail: info@glenholm.co.uk
---